We offer excellent technology solutions to keep your business competitive in today's challenging and highly demanding market.
Quickly enable your website to receive payments from VISA and Mastercard.
Incorporate an online payment service on your website. Transactions paid through E-cards are updated in your billing systems in real time with traceability.

Improve service to your customers
Expand the hours and payment options.
Real time payments
It runs in real time. The card balance and receipt status are updated at the time of payment.

Generate information about payments made
Different reports can be generated to know the behavior of each of your collectors.
Information Management System designed to comply with the demands and regulations of the Costa Rican Public Sector.
Avance® is a GRP (Government Resource Planning) designed to comply with the demands and regulations of the Costa Rican Public Sector. It supports the information needs of organizations, meeting the planning and control needs that such institutions require, in order to significantly increase their productivity, regardless of their size.

Strategic support for decision making.
Executive data view, information always accessible, high-level analysis capacity.

Adherence to the IAS-SP (International Accounting Standards - Public Sector).
Make use of pre-configured catalogs that strictly follow the regulations required by law.

Generate information on the payments made.
Logically indicate the way in which income or expenses affect the finances of each department, area, agency or branch.

Connect your company or institution with collection entities online.
ADMIN CONECTIVIDAD allows an institution to open the collection of its services to external collectors, such as banks, finance companies, supermarket chains or pharmacies, among others.
Thus, customers or users of the organization can have the facility to pay for their services in "real time" in the different channels of the affiliated collectors.

Query your pending payments.
It defines a standard mechanism for consulting pending payments that can be used internally and externally.

Improve service to your customers.
Extend payment hours and increase payment options for customers.

Simplify the bank reconciliation process.
It allows managing the administration of each of the external collectors and making the reconciliation at the end of the day.

Update and improve your billing system quickly, efficiently and economically.
E-FACT offers the issuance of invoices, debit notes and credit notes; receipt of supplier invoices; query and management of invoices, DN and CN; reports generation; management and configuration of parameters.
Compliance with Resolution DGT-R-48-2016

Time savings in the preparation of invoices.
Reduction of accounting errors, elimination of routine tasks.

Storage savings in storage costs by not using physical files but digital ones.
Extend payment hours and increase payment options for customers.

Increased security.
It uses the digital signature mechanism, document encryption.

Increase your income and services with the new online payment solution
e-Payments Suite is a set of software tools that allows a collection agency to receive payments addressed to different billers (public utility companies, educational entities, local governments, among many others) and efficiently and massively process such transactions.

Minimum time for adding new billers.
Eliminate procedures in the process of entering new billers without depending on others systems. E-Payments Suite can be configured to interpret necessary business rules and documents.

Centralized monitoring of all transactions.
Centralized monitoring of all transactions.

Management reports that facilitate analysis.
With the reports available in e-Payments Suite, middle and senior managers will have access to statistical information appropriate for that moment in time.
Make purchase requests in SICOP directly from your ERP
The IN-SICOP system allows to directly associate the purchase requests with the notified contracts and the data of the suppliers already in SICOP. All of this without the intervention of the institution's staff.

Direct access to SICOP.
Direct access to the information of all providers that are registered in SICOP.

Assign contract data.
Automatically assign the contract data notified to purchase requests made in SICOP.

Query report.
The system offers interfaces for consulting the information that has been processed in SICOP (purchase requests, contracts and suppliers) allowing to export the information in CSV, EXCEL and PDF formats.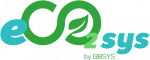 Manage your environmental strategies in an automated way
Eco2sys is a web solution aimed at both government institutions and private companies that provides support for decision-making based on environmental matters. The data collected can be grouped by the different areas of your company.
Meets DIGECA guidelines.

Personalization and tailored registration.
Definition of consumption indicators without the need to make changes to the system. It also allows the recording of the detail of partial or total emissions of the institution or company

Control and follow up.
Historical comparative reports and graphs for consumption control and monitoring purposes.

Decision making
Agile decision-making based on the information registered in the solution.